Showtyme Karaoke & DJ Service
Karaoke & DJ Specialist Scott Esser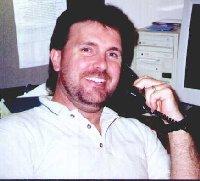 Scott Esser has over 20 years experience and is a great singer along with being a great DJ. Scott has performed for thousands of satisfied and happy clients during his carrer as a DJ.
Having a DJ is the best way to entertain any crowd. Just tell us where and when, and one of our friendly DJs will get any crowd dancing. All the packages have the highlighted basics:
Great Song Selection
Over 25,000 songs to choose from. Jump around with hip-hop or line dance with some country. No matter what your flavor is, you choose the songs you want played, and the songs you don't.
A Freindly Exuberant DJ
The show wouldn't be complete without a friendly DJ to play music, take requests, and maybe even run a few party or wedding games.
Many Additional Options
Choose from a light show, mirror ball, and smoke effects.
Combo Karaoke Deal
Karaoke can be very fun, especially around friends and family. No matter the occasion, you can't go wrong when also let people sing.
-----------------------------------------------------------------------------------------------------------------------------------
Karaoke has been around for a long time, but it hasn't been until the past few years that it's popularity exploded. All the packages have the highlighted basics:
Great Song Selection
Over 7,500 karaoke songs to choose from, all of which include music and lyrics that flash across the screen.
Multiple Microphones
With a wireless microphone always included, you and your friends can sing all at the same time with our three microphones.
Friendly Host
A fun party is only best with a fun karaoke host. He or she will set-up, run, and clean up the show, organize karaoke requests, and sing a few tunes to show the crowd how it's done.
Many Options
Choose from adding a light show, mirror ball, smoke effects, or even tape recording of singers.
Combo DJ Deal
Not everyone a singer? Combo your karaoke show with a DJ addition. The first half DJ, the second half karaoke, or mix it up the whole evening.
Karaoke Basic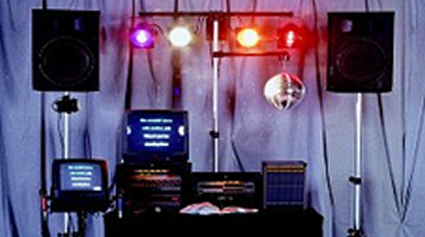 Karaoke Deluxe
DJ Super Deluxe DJ Super Deluxe 4 Way System