Madison Bandstand is a tremendous dance package featuring music from the golden classic hits of years past to current sounds of contemporary radio. The audience is paced through experienced programming and tempo to assure continual dance response. Extensive repertoire and event theme coordination dictate a correct mix of song selections. For any audience, Madison Bandstand has the music to keep the dance floor packed. More than just great music, Madison Bandstand is a wonderful visual experience. An encompassing array of colorful lighting and special effects benefited by proven expertise and quality in music production creates nothing less than the total dance machine...



50's
The BeBop era is recreated from the wonderful harmonies of The Platters and The Everly Brothers to the biggest hits of Elvis and Buddy Holly... and all the giant hits of this golden age in rock history.

60's
The Motown sounds of The Temptations, Aretha Franklin, The Supremes and all the great soul hits of the decade are played right next to the fun filled Beach Boys music and rock's legendary Beatles and Rolling Stones.

70's
A rich variety of superstars that will stir you on to the dance floor... master of the guitar Eric Clapton, the space cowboy Steve Miller, the grand Elton John, Pointer Sisters, Olivia Newton-John and many others.

80's
Michael Jackson, Madonna, Paula Abdul, Prince, Janet Jackson... the masters of choreographed dance music from the exciting era of techno-pop music plus rock's mega stars Phil Collins, Hall & Oates, Whitney Houston, Richard Marx and the list goes on.

90's
Pump up the jam or rap with MC Hammer... decade is now and the sounds are hot! From the sweet sounds of Mariah Carey to En Vogue, we have it all!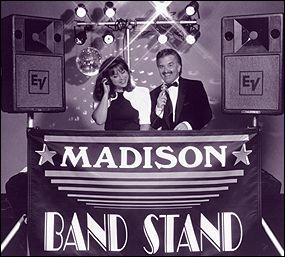 Disco
The 70's music of a thousand discos comes alive as the great dance hits are presented from such artists as the Bee Gees, Donna Summer and the Village People.

Country
The resurgence of American Country is ever popular on the dance floor. Line dance to the current favorites of Brooks & Dunn or slow dance to Vince Gill and Garth Brooks... Or be swept back to the traditional music of Hank Williams & Patsy Cline.

Variety
The spice of the dance... who in Wisconsin doesn't polka! Even the faint of heart will participate when it comes to the Electric Slide, Bunny Hop & Chicken Dance. Any dance of your desire... waltz, two-step, schottische!.

Big Band
The sounds of the 40's flood the dance floor with the all time great hits of the Dorseys, Glen Miller, Duke Ellington and the standards of the great singers like the Mills Brothers, Frank Sinatra & Nat King Cole.

Top 40
The action is on the dance floor and the fun is happening now with your current popular radio requests. A constantly expanding repertoire to stay in sync with today's Top 40 music including your requests for rap & alternative rock.

PLAY LIST